Dental Implants – Hammond, IN
Permanent, Lifelike Tooth Replacements
According to the American Academy of Implant Dentistry, the number of dental implant cases is growing by 500,000 each year. With their rise in popularity among those experiencing tooth loss and the immense benefits they provide, it's no surprise that millions of Americans are already living life with these permanent, lifelike prosthetics. Our team at United Dental Centers of Hammond is pleased to offer in-house, start-to-finish dental implant placement and restoration so that patients can navigate this process with the same friendly faces they see each time they visit. Call us today to schedule a consultation with Dr. Thomas, our on-staff periodontist, who is ready to help with dental implants in Hammond.
Why Choose United Dental Centers of Hammond for Dental Implants?
Your Dental Insurance Is Welcome
Periodontist on Staff to Place & Restore Dental Implants
Rebuilding Hammond Smiles Since 1989
What Are Dental Implants?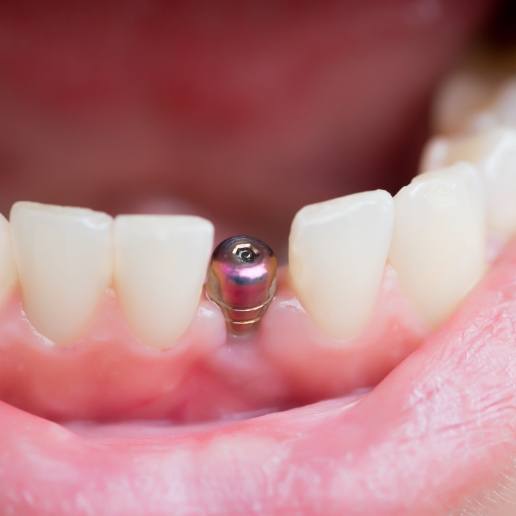 The jawbone requires tooth roots to maintain density and support for a person's smile. However, when tooth loss occurs, the jawbone can begin to deteriorate over time, leaving the mouth vulnerable to worsening effects. But when teeth are replaced with dental implants, which are titanium posts that are placed within the jawbone to mimic root structures, the fear of a weakening jawbone and additional tooth loss no longer remains.
These customized prosthetics deliver maximum support no matter how many teeth a person is missing, and they can attach to dental crowns, bridges, or dentures to deliver complete and fully functional smiles.
The 4-Step Dental Implant Process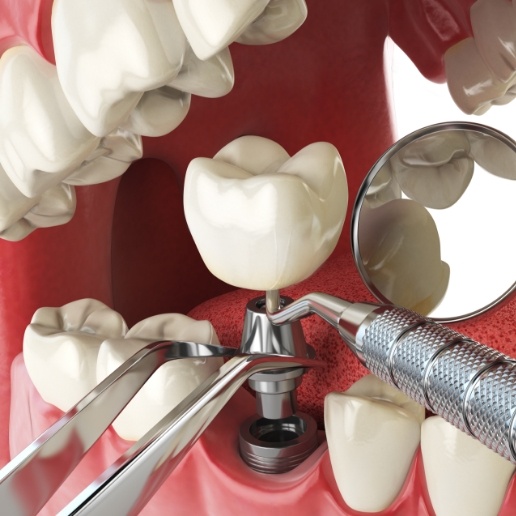 Dental implants are more complex than dentures or bridges, so their placement takes several months. Fortunately, the treatment's benefits are more than worth this wait. That's only natural – we at United Dental Centers of Hammon complete the entire implant process in-house. Rather than see an outside specialist, then, you can trust Dr. Thomas and the rest of our team to get the job done. In particular, you can expect them to oversee four main treatment steps: consultation, surgery, osseointegration, and delivery of the final restoration.
Initial Dental Implant Consultation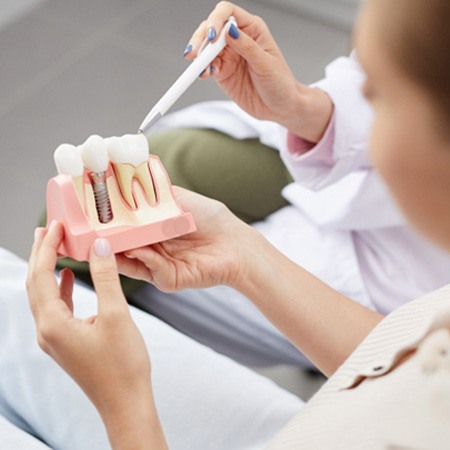 For the first step of the dental implant process, you'll attend a consultation with Dr. Thomas. This visit lets him learn your treatment goals, health history, and general background. Based on these factors, he can then decide whether dental implants suit you.
Even if you don't immediately qualify, Dr. Thomas and his team can still help. They'll work with you on potential preliminary procedures, whether gum disease therapy, tooth extraction, or bone grafting. Once such services are done, you'll be ready to receive implants.
Should our office approve treatment, the consult will also cover the details of implant placement. In other words, we'll walk you through the treatment timeline, cost, and more.
Dental Implant Surgery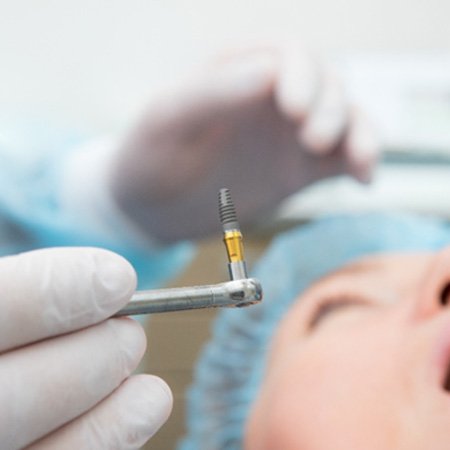 As mentioned earlier, our practice places implants in-house. That means a reduced treatment time and not having to see outside specialists. This setup also grants the treating dental team (i.e., us) instant access to your dental records.
The actual implant surgery will consist of these four actions:
Anesthetic Injection – Dr. Thomas will numb your mouth before starting treatment. That way, you won't feel any discomfort from the surgery. The most you'll sense is some slight pressure as our staff operate.
Minor Incision Work – After numbing the treatment site, Dr. Thomas will make a small incision in your gums. This opening will create space for your new implant(s).
Implant Placement – Once an opening is made, Dr. Thomas will place your implant with the help of advanced methods and tools.
Gum Closure – Following implant placement, our team will close the incision. They'll then put a cap over the post.
Dental Implant Osseointegration & Abutment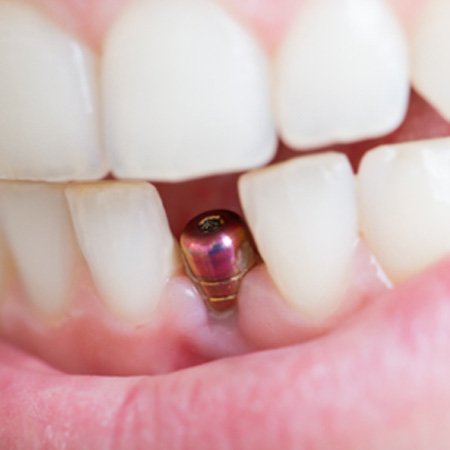 After the surgery, your implant will slowly fuse with your jawbone. This process (i.e., osseointegration) takes roughly 4-6 months and keeps the post in place. As such, you must stay cautious during this time. A wrong move could lead your new tooth (or teeth) to fail early.
Following the osseointegration, you'll need another surgery that places the abutment on the post. (This metal connector will secure your treatment's final restoration.) The final prosthetic will be crafted from previously made dental impressions as you heal.
Delivery of Dental Implant Restoration(s)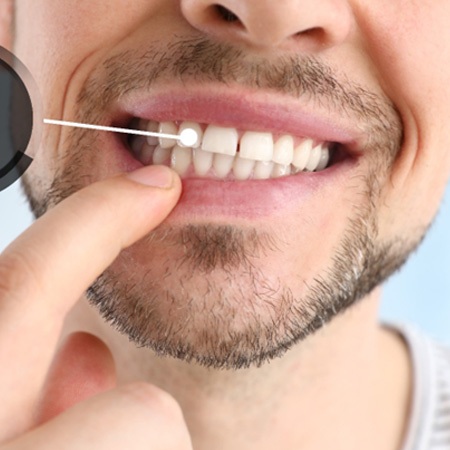 The last step of the dental implant process is simple. Specifically, you just have to visit our office for your final restoration. (This item might be a crown, bridge, or denture based on how many teeth you've lost.)
Fitting the final restoration won't take long. In general, it only amounts to some cement work. We'll then make some last-minute adjustments to ensure your bite is comfy. Once that's done, you'll be ready to enjoy your new, complete smile!
Benefits of Dental Implants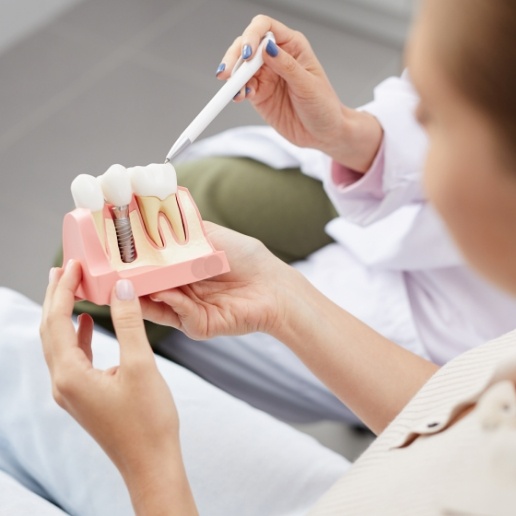 When compared to traditional tooth replacement solutions (i.e., dental bridges and dentures), dental implants deliver far greater benefits. We will go over these with you during your consultation, but in the meantime, here are a few of the most common:
Enhanced aesthetics combined with greater confidence.
You're able to eat all types of food with few restrictions.
Reduced risk of jawbone deterioration and dental drift.
Healthier teeth, gums, and whole-body wellness.
Increased bite power of up to 80%, allowing you to eat the foods you love.
Minimal risk of facial sagging, allowing you to maintain a more youthful appearance.
Improved speech clarity.
Who Dental Implants Can Help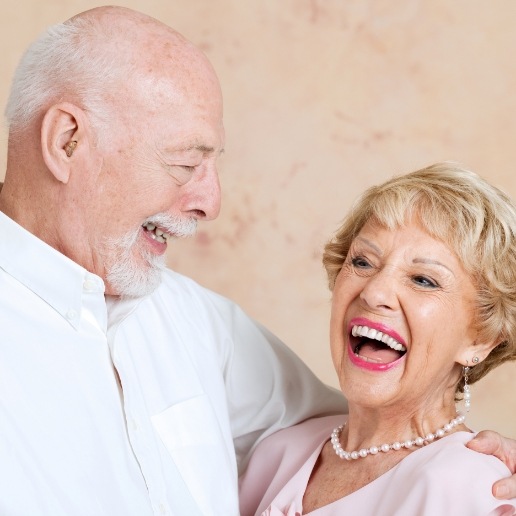 If you are suffering from tooth loss, you'll be pleased to learn that most patients like yourself are considered good candidates for dental implants. The reason is that even if your oral health and jawbone density are not up to par, we can implement various treatments to ensure your future smile with dental implants remains a reality. During your consultation with a member of our team, we will discuss the proposed plan for your treatment as well as how these prosthetics can work to address any type of tooth loss:
Missing One Tooth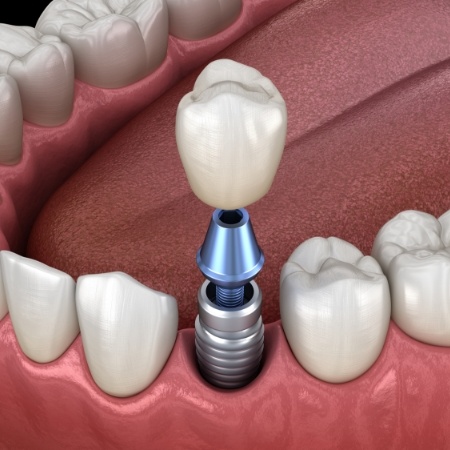 With an estimated 120 million people in the United States living with a single missing tooth, we want to provide a solution that will restore function and boost confidence. With a single dental implant, metal abutment, and customized crown, we can replace a missing tooth to fill the space once and for all.
Missing Multiple Teeth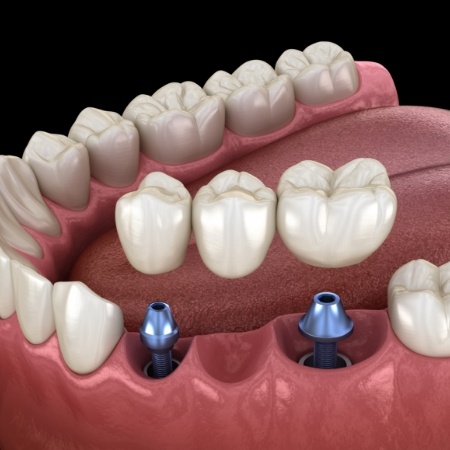 Using two dental implant posts and a fully customizable dental bridge, we can literally bridge the gap between teeth to deliver a complete, beautiful smile. Unlike traditional fixed bridges that require altering healthy teeth, implant bridges leave them alone and instead, focus solely on the vacant sockets. This allows a patient to keep more of their natural tooth structure while also achieving a complete smile.
Missing All of Your Teeth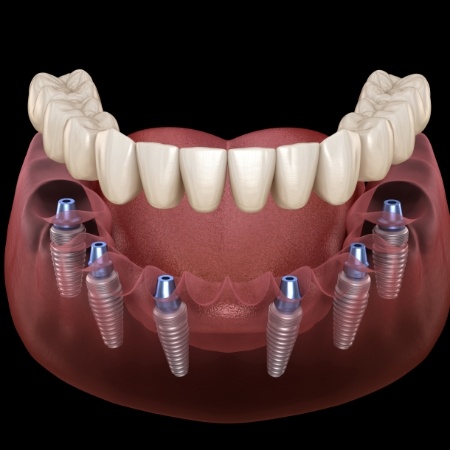 Although traditional dentures are an option, you might consider those held into place with dental implants. Using between four and six implant posts, our team can rebuild your smile with the kind of support that is needed to hold up a customized denture that will attach to the posts. As a result, you will avoid an unstable prosthetic and instead, enjoy optimal durability and permanence.
All-On-4 Dental Implants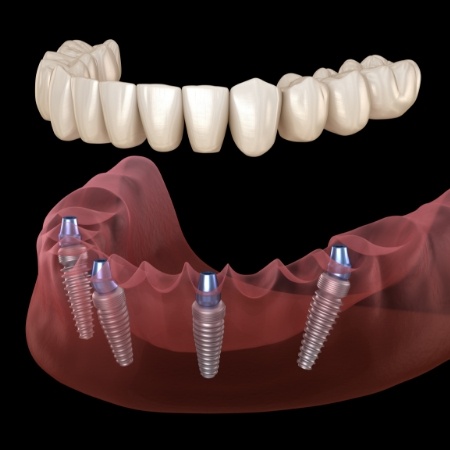 Even if you've been told that you lack the necessary jawbone density for regular implant dentures, we can use All-On-4 to restore your smile. Using fewer posts (only four), our team will pinpoint the densest areas of your jawbone, placing and positioning each one to ensure optimal support, all without the need for a bone graft.
Understanding the Cost of Dental Implants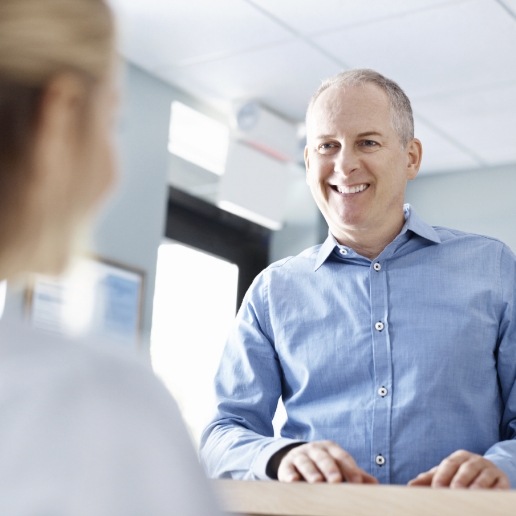 If you are thinking back to when a friend received dental implants, you may remember it being a costly venture and that this type of procedure is simply out of reach for you financially. The good news is that it doesn't have to be! The cost of dental implants in Hammond is different for each person, which is why our team considers various factors before formulating a price estimate. Once we have all the necessary information, we will go over your dental insurance benefits and find out how much you can expect to pay out of pocket for any expenses you might incur.